2011 MUDDY BOOT MUSIC
TapWater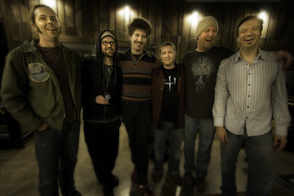 World Twang
This boisterous sextet blends the sound of banjo, steel pans, piano, accordion, upright  bass, guitar, vocal harmonies, drums aplenty and more into a swirl of highly danceable and strangely exotic music steeped deeply in the roots of American tradition.
Bandmates Steve Moore, Timmy Jones, Rudy Slizewski, Ravi Laird, Wes Elliott and Simon Lucas are all curious about how different cultures produce music. They study, explore and borrow from genres across the world and delight in their shared desire to run it all through their uniquely American filter.
TapWater's seventh release in seven years, produced by Steve Berlin of Los Lobos and due out in the summer of 2011, will also feature multiple performances from members of War, The Motet and James Brown's band, The Famous Flames. The new album has already been compared to the likes of The Band, Paul Simon, Lyle Lovett and 1970s Van Morrison.
More on TapWater
---
Casey Neill & The Norway Rats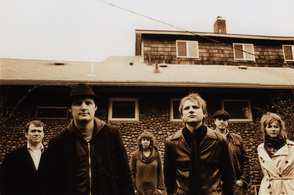 Haunting Ballads & Heartland Rock
Casey Neill & The Norway Rats perform rock music informed by post punk ethos, combining haunting dirges and whiskey fueled rave-ups. Neill's original weather beaten narratives eschew irony in favor of romance, celebrate society's miscreants, and explore the hidden corners of the American landscape. The Norway Rats, a crack gang of Portland's finest musos, perform Neill's originals with unhinged li...ve energy. With accordions, over-driven guitars, and Neill's raspy voice, the band blends elements of Scots/Irish tunefulness, feral abandon, and heartland rock. Neill has left his impact on audiences in the United States and overseas while touring extensively for more than a decade.
The Norway Rats are Ezra Holbrook - drums, Chet Lyster- guitars, Jenny Conlee - accordion, keys, and Jesse Emerson - bass. Their CD 'Goodbye to the Rank and File' was released in 2010 to rave reviews from press, radio, and blogs. Casey Neill is on tour with the band and in solo performance throughout 2011.
More on Casey Neill & The Norway Rats
---
Colleen Raney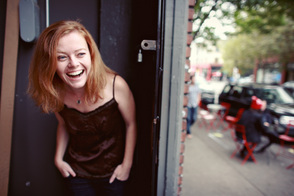 Contemporary & Traditional Celtic
Colleen Raney is among the best young Celtic singers of her generation, inspired by the Irish and Scottish songs and tunes that she grew up with as a member of the multi-talented Raney family and alongside the world renowned harp and dulcimer duo Magical Strings. Through her gorgeous voice, at turns whisper soft or intensely powerful, her deft arrangements, and her sidemen – some of the best acoustic musicians in the Northwest – Colleen breathes new life into the old songs, bringing out new facets to the music that haven't been heard before.  Joining her at The Muddy Boot Festival this year are Casey Neill (Casey Neill & The Norway Rats, KMRIA) and Johnny B. Connolly.
Raney, who has recently released her second album, Lark, makes her home in Portland, Oregon where she fronts a band of powerhouse Irish musicians that include, in various combinations, Casey Neill, Hanz Araki, Zak Borden, Matt Jerrell, Cary Novotny, Johnny Connolly, Dave Cory, and Colm MacCárthaigh.
More on Colleen Raney
---
Keep Your Fork, There's Pie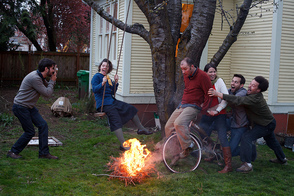 Sweet & Soulful Indie Folk-Pop
Keep Your Fork, There's Pie is a Portland Porch-Born sextet of multi-instrumentalists and songsters united by a strong friendship and an optimistic philosophy: The best is yet to come!
They have been serving up their unique flavor of sweet folk-pop all over PDX and surrounding areas for 5 years.  The Portland Mercury says: "This six-piece Portland serving is a well-baked mixture of banjo, accordion, uke, mandolin, guitars, drums, trumpet and keys -- topped off with creamy vocal harmonies. Mmm, that's good."
More on Keep Your Fork, There's Pie
---
Freak Mountain Ramblers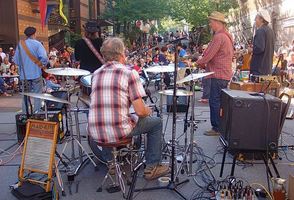 Country-Blues
With a lineup including three members of the inimitable and notorious Holy Modal Rounders / Clamtones amalgamation of the '70s and '80s, Freak Mountain Ramblers has its roots in the underbelly of the alternative music scene that existed at that time, both in Portland and across the country. The Freaks have accumulated a loyal following in the Portland area by dependably creating beauty and bedlam at their live shows, and by producing CDs that successfully translate that energy and excitement to disc. Four lead singer/songwriters, each with a distinct character and approach to life and music, provide a dynamic show that packs the rooms with some of the most interesting music fans around.
The Freak Mountain Ramblers are veteran performers packing decades of experience. FMR members have been core musicians of the Holy Modal Rounders, Golden Delicious, the Clamtones, Richard Cranium and the Phoreheads, Prairie Dogs, Swingline Cubs, The Trail Band, and The Fly By Night Jass Band.
More on the Freak Mountain Ramblers
---
Conjugal Visitors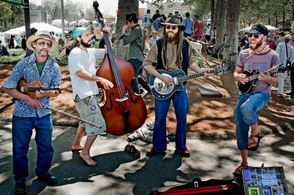 Acoustic / Bluegrass / Blues
These boys are hot musicians and great singers, and they aren't shy about putting it on display during explosive marathon sets of tightly woven arrangements and jazzy improvisation. Watching them perform makes you feel like you've stumbled into a free-wheeling living room jam session party, but the talent and polish soon shine through the laid back attitude.
Rev. Bro. Uncle Jesse Lawton (vocals,mandolin)
Chip (Professor Horsehair) Cohen (vocals,fiddle)
M.D. Elsworth (Moz) (vocals,guitar)
Brien (Bobo) McMullen (upright Bass)
oftentimes accompanied by various instrumentalists such as washboard, harmonica, etc.
More on the Conjugal Visitors
---
Brethren Thread

A Soul Stirring Stew of Funk/Psychebilly/RnB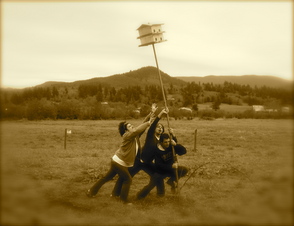 More on Brethren Thread
---
Tree Top Tribe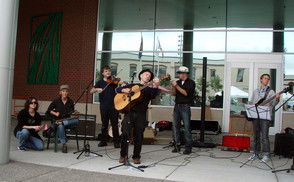 Bluegrass & Folk Rock
Tree Top Tribe has an eclectic mix of blues, folk rock, bluegrass, and jazz - a rootsy sound that engages the audience in a foot stomping, head nodding journey.
More on Tree Top Tribe
---
Chicamarimba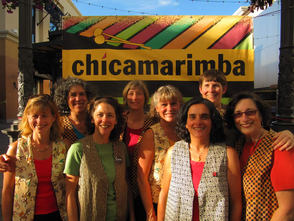 World Music
Composed of eight women musicians, this Portland dance band performs upbeat world music blending African and Latin American rhythms.  Instrumentation consists of seven marimbas, drums, African gourd shakers and a variety of percussion instruments. Vocals include traditional Zimbabwean harmonies and contemporary songs.  Chicamarimba performances are lively, high-energy and exhilarating.
More on Chicamarimba